Welcome to the Hawarden Bee Sanctuary
Welcome to the Hawarden Bee Sanctuary web site, our aim at the sanctuary is simple, we wish to help and promote the local bee population, by providing an environment for the bees and other pollinating species to thrive and expand to boost the local population.
This principal is working in the tropical and temperate marine environment, where an area is set aside to help repopulate the wider area that may have been over exploited, such as the corral atolls of the south Pacific and even here in the UK with reserves such as the isle of Lundy, this principal were a single refuge atoll or island has proven effective in seeding the greater surrounding areas with new life.
Although nobody we know actively hunts or persecutes our bees here in the Deeside area, we do know that all around the UK the bees and other pollinators are struggling against indirect issues such as pesticides, loss of habitat and imported disease.
Where are we…
We are just off the road into Hawarden, a little plot of land dedicated to the cause, looking out over the farming fields of Mancot with views of the Wirral and Cheshire off in the distance. It's a North facing slope with a sheltering hedge line and uninterrupted sun throughout the day ' if it's out that is'.
Who is helping…
The Gladstone Estate and Farm Shop have been incredibly supportive, without their help we would have been struggling to provide the bees this sanctuary, in particular Vicky…. Thank you Vicky.
Things we are doing…
At this point in time we are already host to a colony of honey bees, recovered as a swarm from Shotton (just off the main road next to the pavement), and are presently in the process of designing the plot of land to provide the best possible areas for bumble bees, masonry bees and others to set up home, with the correct surroundings for over wintering and nesting in the following spring.
All over approach
More than just one species
When we understand the idea for conservation, we know a balanced approach is the best solution, what we may think of as a problem may be part of the natural ecosystem…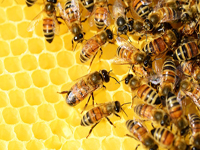 Just like a balanced environment, the sanctuary will be part of a bigger picture, offering guidance and working with lots of different organisations and groups, whilst doing the practical stuff too, so here are a few other places to get information.
Helfull Links
We would be delighted if you would like to help us by offering a small donation.